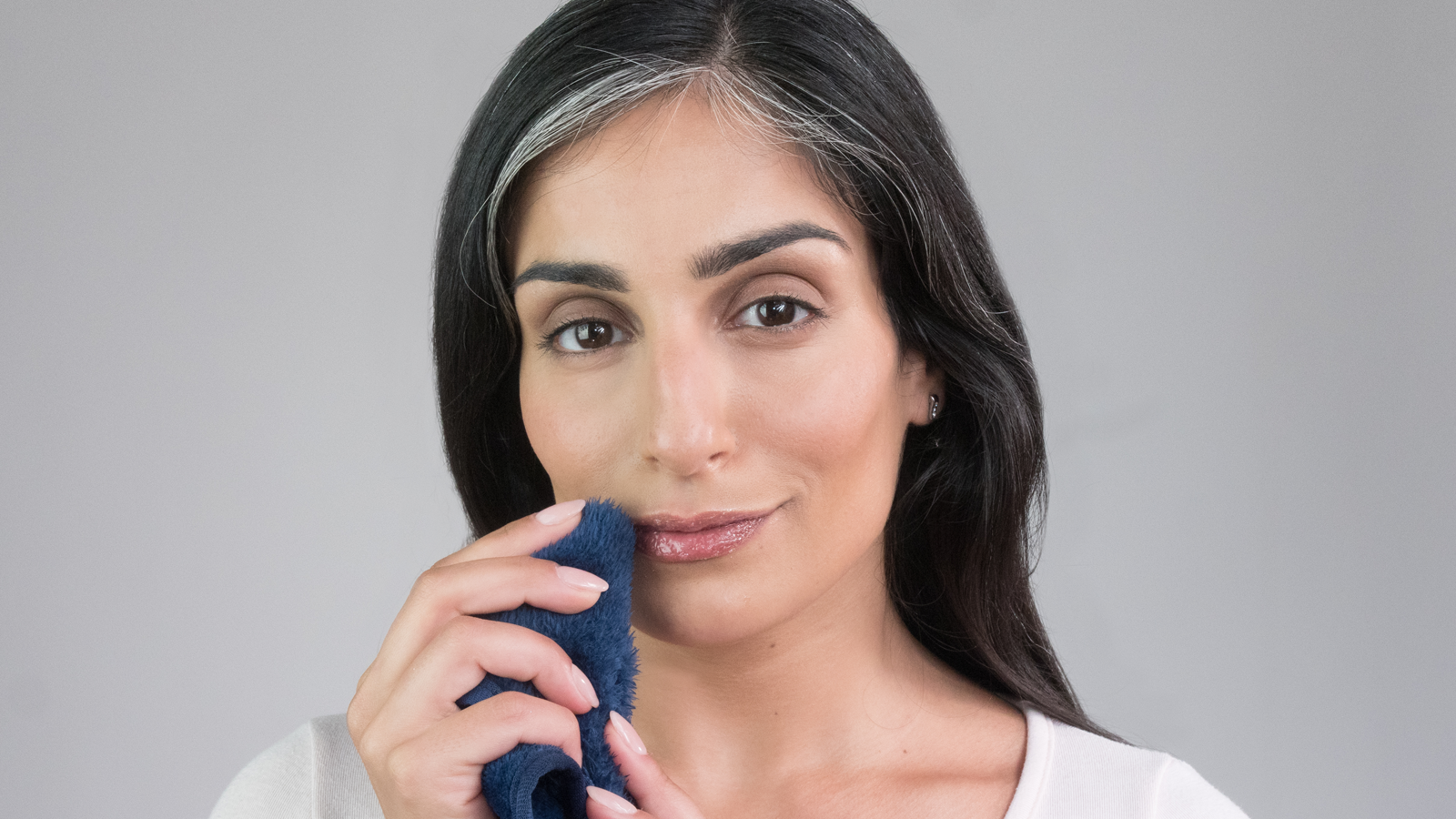 Makeup Is Out, Skincare Is In. Here's Why Beauty Experts Are Switching To Multi-Step Skincare Routines
Multi-step skincare rituals are the biggest trend in beauty since early 2019. Beauty lovers couldn't be happier
Hell hath finally frozen over.
In late spring of 2020, Andrea Mourad experienced a day she thought would never come.  
As far back as she can remember, she has always worn makeup.  It was a ritual, an indelible part of her morning routine.  But on that sunny day and on more days afterward, she did not wear one hint of makeup.
She can't pinpoint exactly why, but it was from that moment on that Andrea says she's been wearing less and less makeup and investing more and more into skin care.
"This is not something I purposely set out to do, but the switch has made a huge difference to my skin.  I didn't realize my pores were constantly clogged and my skin had dry patches from the makeup until after I started using less make up and more skincare." - says Andrea.
Andrea is not alone.  According to The Changing Face of Makeup, over 1 in 4 women in the U.S. are using much less makeup today compared to last year.  
Perhaps that fact may not be all that surprising, but what is curious is that consumers all over the world are buying less makeup but investing much more into multi-step skincare routines that replicate a spa-like experience at home.
Where consumers used to demand quick fix miracle creams, it is clear the trend is starting to swing over to the opposite side.
"My skin has seriously never looked better.  My pores are clear, my dry patches are gone, I'm saving more money and I just love the feeling of my skin without make up all the time.  I feel free!" adds Andrea. 
Not surprisingly, sales of makeup in every State are on the downtrend, and multi-step skincare sales are hot.  A trend, beauty experts say, that predates the pandemic.
The Rise of Minimalism - Is It Here To Stay?
With the pandemic closing workplaces and restaurants, it has become much less important to dress up or wear makeup. The realities of wearing a mask over the mouth and nose have rendered a lot of makeup, like bright lipstick, useless. 
It's no surprise then that according to McKinsey, makeup sales for prestige brands were down by up to 75% in 2020. 
But the switch from makeup to skincare started back as early as 2019, long before social distancing and mask-wearing were on the radar when it was just a whisper toward the idea that less is more.
By late 2019, a swell of beauty influencers started supporting this minimalist approach and started calling it the "make-up less" look. A switch towards more "wellness" based solutions and natural ingredients also gained more popularity around this time.
Skincare brands started to take off, offering more than just basic cleansers and moisturizers, but entire multi-step routines meant to proactively target wrinkles and signs of aging, or correct the effects of acne and oily skin. 
The increase in demand for skincare products stems from a major change in the entire beauty consumer base in recent years. Consumers started to invest more in anti-aging and anti-wrinkle products, to proactively target and prevent imperfections at the root cause, rather than retroactively with possibly harmful makeup products.
Tik Tok "skinfluencers" like @DermDoctor, an actual dermatologist, have been some of the most influential players in the skincare movement. Never before in history have consumers had such direct and unfiltered access to information from experts, and this is true for the skincare industry as well. The consumer base is becoming more and more informed about how to actually take care of their skin. 
With a proper regimen and by selecting products that contain key ingredients, DermDoctor and other skinfluencers say people can achieve glowing youthful skin, without layers of makeup.  Indeed from a long term skin health perspective there is a lot of truth behind this movement.
Benefits of a Multi-Step Skincare Routine
One brand that's seen a surge in popularity with this shift toward multi-step skincare routines is a Korean beauty brand called Saranghae (which means I Love You in Korean).
Korean beauty has been a revelation in the American beauty market in the last few years, not only because of the incredible innovation coming out of South Korea, but also because the underlying philosophy of K-beauty is resonating with US consumers.
K-Beauty is about creating healthier skin in the long-term, rather than achieving quick, overnight results (that ultimately leave the skin worse-off) with products that contain harmful ingredients. The hallmark of K-Beauty is natural, high-quality ingredients that focus on healing the skin for long-term results and a "lit-from-within" glow that is effortlessly youthful at any age. 
Saranghae offers a whole line of authentic Korean skincare products, but what makes them stand out is their mission is to simplify the world of K-beauty for North American consumers.
Many K-Beauty routines are 10 steps long and include expensive products that take a long time to apply. Saranghae embodies the K-beauty philosophy of authentic, high-quality ingredients but specifically designed their multi-step routines for North American consumers where time savings and efficacy are non-negotiable.  By cutting the traditional routine from 10 to 5 steps, Saranghae is delivering all of the steps that matter but without compromise.
The introduction of the 5 Step Routine designed specifically for the US market was revolutionary in the K-Beauty skincare space when it was introduced 4 years ago, and they are still considered one the pioneers in building a K-beauty foundation in North America.
But Saranghae offers more than just their 5 Step Routine; they also boast a whole range of products meant to target and heal specific parts of the skin.
One of their most popular offers, The Favorites Trio is an effective 3 step routine that provides the ultimate essentials for radiant and youthful skin. 
Jessie M., a longtime customer of the brand, says that following just these three steps twice a day has completely changed the texture of her skin.
"My philosophy before Saranghae was to just hop on what was hot or try what my friends were using.  I was just too busy and I always thought all skin care products were the same.  But my experience with Saranghae products has completely changed my outlook and the opinion of those around me.  The word I hear daily is "dewy".  I get compliments on my skin everyday.  I rarely wear makeup now, nakes skin with consistent use of Saranghae products is the look I feel most comfortable with.  I simply love this brand." says Jesse.
Step by Step Guide
Saranghae founder Peter Lee agrees with Jessie and says that Saranghae's Favorite Trio is one of the most effective ways to achieve healthy, long-lasting beautiful skin.
"I always recommend our Complete 5 Step Routine to anyone looking for the full Saranghae multi-step experience but our 3 Step Routine, The Favorites Trio is a great way to dip your toes into a Korean multi-step routine.  It starts at a lower price point and for many American consumers, the idea of a 3 steps routine sounds more manageable than a 5 step."
 
The Favorites Trio: 3 Step Routine
 
Step 1: Nourishing & Moisturizing Oil to Foam Cleanser
This cleanser is unique because it is a  2-in-1 oil to a foam formula that gently yet effectively removes all dirt and impurities. Jessie M. says she can almost feel the dirt leaving her pores when she uses this.
Step 2: Deep Radiance Essence + Serum
This serum targets the root causes of aging with 10% Sang Hwang Mushroom, a powerful natural ingredient exclusive to Saranghae. It provides antioxidant protection and promotes elasticity while Hyaluronic acid hydrates and plumps. 
Step 3: Firm & Lift Regeneration Cream
Jessie M. calls this her "face lift in a bottle." This moisturizer not only hydrates and soothes, but plumps and lifts the skin for a radiant, youthful look.
 
Learn More About The Favorites Trio
Recommended Step: Exfoliating Matcha Mask
Although not part of the 3 Step routine, Peter recommends exfoliating once a week with the Saranghae Exfoliating Mask.  
"Our Exfoliating Matcha Mask is an antioxidant bossed exfoliating treatment designed to gently scrub away dead skin cells while respecting your delicate skin barrier.  It really boosts skin cell regeneration which is really the foundational step to great skin." - says Peter.
Learn More About Exfoliating Matcha Mask
About Saranghae
Saranghae was launched in 2016 by Peter Lee, a Mechanical Engineer.
Unhappy with the impersonal nature of his work Peter decided to create a line of powerful anti-aging skincare products made from the Sang Hwang Mushroom, a mushroom found growing in remote parts of Asia that has been used in Eastern Medicine for over 600 years.
It seems odd for a person who made cars to switch formulating skin care products but foundation of Saranghae had been in the works for 40 years by his mother Lee Myeong Jo back in Korea.
"My childhood memories are filled with strange concoctions made from odd looking herbs and plants.  Saranghae was really started by my mother 4 decades ago, I just happen to make it more official" - laughs Peter.
Is This Trend Here To Stay?
With more and more people moving away from makeup and realizing the importance of investing in skincare, the skincare industry is now one of the fastest growing consumer industries according to Statista. 
But it's not just about numbers and statistics. Skincare is not just a trend that will be left in the wayside.
Investing in skincare, rather than makeup, allows people to target and heal the imperfections they have the urge to cover up with concealer or foundation. Skincare isn't a "quick fix" fad, it's an investment. 
K-Beauty especially embraces this philosophy of healing from within for long-term results. Instead of quick-fix products that may contain harmful artificial ingredients, K-Beauty brands like Saranghae promote natural regimens for a long-lasting solution to a whole range of skincare concerns. 
Jessie M. sums it up the best:
"I invested in a skincare routine like the one from Saranghae because it was a long-term investment in myself. I spend so much time and money working out and eating healthy to keep the rest of my body looking good, so why wouldn't I invest in my skin as well?"
Should You Wish To Try Products From This Article
If you wish to try any products mentioned in this article you may use the coupon code: GABBY10 to get 10% discount on your purchase.
Saranghae Favorites Trio:
https://lovesaranghae.com/collections/all/products/the-favorites-trio